After a long week of indulgence in Vegas, I'm ready to start July off with a bang! My OTF membership is officially on freeze so I will be running outside more and making use of our home "gym" and my cheap Planet Fitness membership. The key for me is going to be keeping up my workout motivation for solo workouts vs the ease and group comradery that Orangetheory provides. I set a goal for the month of running for 30 days so I will be mixing it up with speed, endurance and recovery runs both outside and on the treadmill. Weight room wise, I have my own knowledge, the NTC app, and the OTF reddit page for added inspiration. I'm hoping this week sets the stage for a strong showing in July! My overall goals for the week are to run every day, get my water intake back up and limit the amount of screen time I'm getting. 
I only have 3 days at home this week so my goal is to workout at Planet Fitness with combo cardio and strength Monday – Wednesday. I already have today's workout done! I tested out the guided runs feature on the NTC app and did a speed workout on the treadmill. I followed that up with a mostly upper body focus in the weight room. I like to do a lot of single arm exercises to eliminate any overcompensation from the stronger side plus it helps utilize my core more as I try to keep my body stabilized.
Thursday and Friday I plan on doing outdoor runs combined with a bodyweight or banded NTC workout as we'll be down at my Grandma's for the 4th of July. Saturday and Sunday are going to the tricky days – K has a rugby 7s tournament in Wilmington so I have to plan to get up way early to get my runs in before we spend all day at the pitch.
Meal wise, we are keeping it easy this week. Tonight we're utilizing a gift card and going out to Orofino (my favorite and a fantastic Italian restaurant in downtown Fredericksburg). I'll cook at home Tuesday and then Thursday and Friday we'll grill out and cook at Grandma's. Saturday and Sunday will pretty much be a wash – we'll pack snacks and lunch for the pitch but we'll eat out for dinner in Wilmington (hopefully some seafood!). There will be a lot of imbibing in the later part of the week since I always make a pitcher of bloody marys or sangria for me and Grams, and I tend to drink a lot of Bold Rock cider while watching rugby.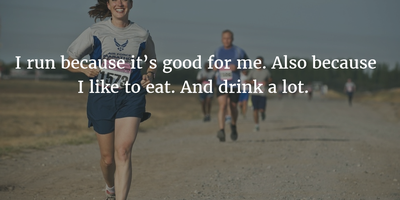 {For the Weekly Fitness Plan template visit Hello Adams Family! Liz does an awesome job inspiring people to get active and healthy}