We're moooooving! Finally! K and I are making the transition from an apartment over to a house. We've actually been trying to move into this house for about 2 years now and the opportunity finally arose so we jumped on it. The house itself has been in K's family for decades but hasn't had much work done via the previous tenants so we agreed to move in with the intent of taking over the upkeep and renovations. The agreement also gives us some wiggle room financially to further focus on paying down our own debt as well as increase our savings for our own eventual house.
We rented a u-haul last Saturday and with the help of some friends (paid in pizza & beer) were able to move the majority of our belongings. We have a few things left at our apartment and are continuing to sleep there for the week while we continue to clean and pack. This is our 4th move together so we have a good system down, but this one has definitely presented its challenges.
Challenge #1 – the toilet in the main floor bathroom needs to be replaced. We already bought the new toilet and K and his dad were planning on installing it last Friday. Upon removal of the old toilet, they discovered the pipe underneath was completely rusted. So now we're waiting on our plumber to replace the pipe so we (aka they, not me) can install the new toilet.
Challenge #2 – replacing the washer & dryer.
The previous tenants took the washer and dryer that was there (it was theirs, so that's not an issue) so we had to buy new ones. We took advantage of the sales going on at Lowes in November and purchased some awesome new Samsung ones. We end up doing a lot of laundry during the week and we knew this was something we wanted to invest in for the long run. They were delivered and installed today and I love the stainless steel blue color we chose!
Challenge #3 – the house is filthy. Before we can actually unpack and arrange our furniture, we are having to deep clean every nook and cranny in this house. It's pretty frustrating and part of what is making this move go so slowly. I spent an hour today trying to clean the blinds in the master bedroom when really I just wanted to rip them down and order brand new ones. Being completely honest – I have no problem cleaning up after myself (although toilets are disgusting. And vomit) but other people's filth really grosses me out and I am seriously looking at my budget and wondering if I can afford a cleaning crew.
Challenge #4 – a lot of things are original to the house – not in a good way. The house was built in either the 30's or 40's. The windows need to be replaced. The HVAC system needs to be replaced. The front door needs to be replaced. Any flooring outside of the original hardwood needs to be replaced. The kitchen and bathroom both need to be gutted and redone. All pipes need to be replaced. The wiring needs to be inspected and probably replaced. The retaining wall surrounding the front yard is cracked from some random earthquake we had years ago and needs to be fixed…. There is a lot of stuff in that house that hasn't been touched or updated in yeeeeaaaaars that desperately needs to be addressed.
We are planning on being officially moved in on Sunday, and then I guess the real work begins! The first item on my to-do list is to buy a Christmas tree and decorate. Normally I decorate the day after Thanksgiving and I had to hold off this year. All my decorations make me happy (I have some awesome vintage pieces from my childhood) and I'm itching to get them out there. So top priority – Christmas decorations. After that I guess I'll get the kitchen situated so we can actually eat at home again and maybe unpack my clothes. hahahahaha.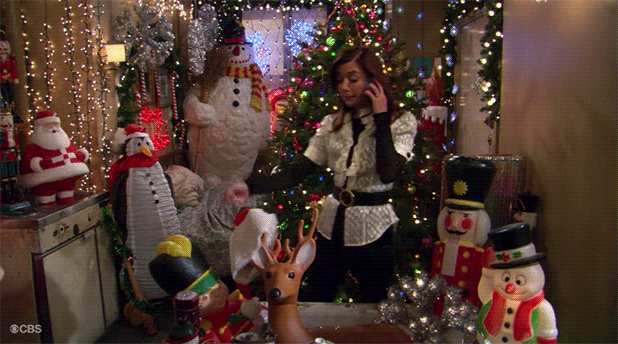 Be prepared for a lot of before and after photos and posts with updates on the house! I LOVE house architecture, redesigning floor plans and interior design so despite all the challenges, I am so excited to start working on things.
For now, I'm off to sleep on the air mattress in my increasingly empty apartment!
XO