I took a mini girls vacay this weekend by meeting my sister in Charlottesville for some wineries and a concert. We only spent half a day together but managed to cram in 2 wineries, dinner & drinks, and the Legwarmers before crashing in our hotel room! I'll do a review of the wineries later on (went to Blenheim and Jefferson) but for now I just wanted to highlight the Legwarmers.
The Legwarmers are the "ultimate 80's tribute band". I'm pretty sure most of their shows are in the Virginia, Maryland, Pennsylvania area and there are specific concert theaters they are always at. Lucky for me the Norva in Norfolk VA is one of those theaters and I've gone to four of their shows while I lived out there.
I would say at least 80% of the concert goers dress the part – most going the neon, crazy hair route. My friends and I have always dressed up in the past and I still have my ripped Misfits t-shirt from one of the first concerts we went to. There is such a great vibe at their concerts and the ages range from people definitely not alive during the 80's to people who fully experienced the awesomeness firsthand.
Since we were doing wineries and dinner prior to the concert, we opted out of dressing up. I went with an all black outfit paired with my trench winter coat and was told I actually looked like a character from The Breakfast Club, so even my casual outfits fit the 80's hahaha. Outside of a few band member changes (expected since I last saw them in 2014), the show was exactly as I remembered. A-MAZING energy from the band and the audience.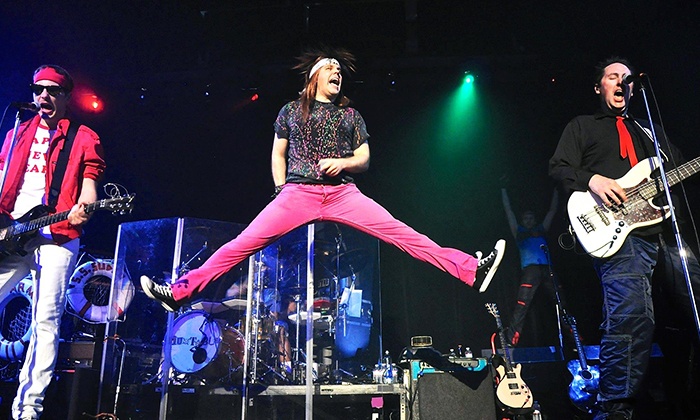 Everyone in the band has their 80's persona they use during the shows and they are completely in character 100% of the time. My favorites are Clarence McFly (tenor sax, #1 backup dancers extraordinaire, and always comes out to solo 'Just a Friend' by Biz Markie) and Cru Jones (one of the lead guitars and vocals, known for his impressive leg kicks).
This was my first time seeing them at the Jefferson, and my sister's first time seeing them altogether – the venue is smaller and definitely less crazy than the Norva which was perfect for us.
If anyone is looking for an awesome time and a chance to relive the 80's, I definitely recommend checking out this band. And going out all out for it! They regularly play in Richmond, Norfolk, DC, and Charlottesville.