The second part of my vacation last week was spent in Las Vegas and was part work/part play. I had my national convention out there and K flew out to join me. He spent a lot of time at the pool and wandering around while I was in sessions but we also had a lot of time to spend together. This was my 3rd time out to Vegas – I came to the convention when it was last here in 2013 and we came out last March for the Vegas 7s International Rugby tournament – so I wasn't really in awe of the place (not sure if that's the right way to describe it). I'm not big on gambling or the late night nightclub scene so we skipped all that. Regardless, we had a blast with the things we did do!
I was up early Tuesday-Thursday to go to 7am sessions and I soaked up so much stuff!! My absolute favorite was a session about NOFFS (Navy Operational Fitness & Fueling System) with EXOS. I had already gone to one session that S. Underwood from EXOS spoke at and I was thrilled to hear him talk some more. Bonus – at the end of the session, anyone who wanted to go up and do a mini workout with the team was welcome. It definitely fueled my desire to one day work for them and with the military! Lucky for K I was just busy in the mornings and was back to spend time with him by lunch most days.
Wednesday night, K planned for us to check out Axehole, an axe throwing place down on Freemont Street. (Obviously we don't go for the traditional Vegas scene hahaha) We did a brief training sesh with one of their employees and then we had an hour & 1/2 half to just throw axes! We did play one game (like darts) and I lost by ONE point. Tragic.
One the employees (Jesse D – he's awesome!) taught us some trick shots and I found that I was better at those than just straight throwing the axe. At one point, I tried the 2 handed throw and the axe hit the wall and bounced back at us – definitely not the throw for me!
Excuse the montage of my drinking… but now for the real way we spent all our time – THE POOL! We definitely paid the $10 each day to access the adult only pool with the poolside bar service and comfy chairs, and no children yelling. Pretty sure we spent about 6 hours at the pool on Thursday and we both went through 2 buckets (K had Bud Light, I had Barefoot Rose spritzers… and a bloody mary). I have no problem sitting by the pool or in the pool with a drink and book all day. So despite not doing the traditional Vegas activities, all of it was still very worthwhile for us!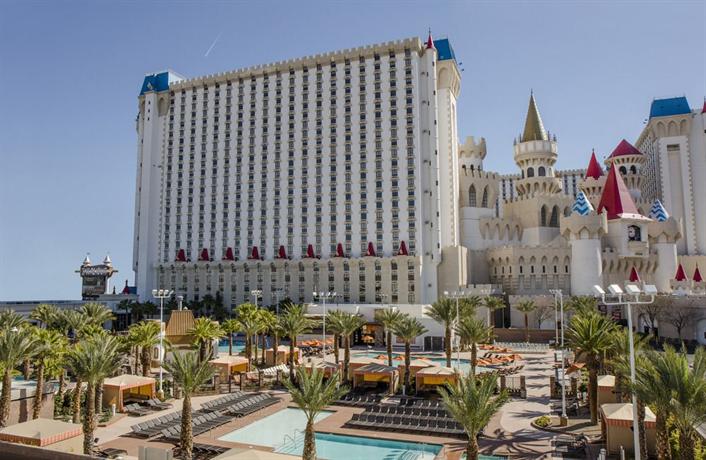 I will say that we stayed at The Excalibur because I got great rates through the convention and it was still connected to Mandalay Bay so I didn't have to venture out into the heat when walking to the convention center. The quality really isn't great, though a pool is a pool and we still loved that. Plus I paid a tiny bit extra for a late checkout so we could lay at the pool all morning/afternoon on our last day there. But we both agreed that when we make it back out there, we need to stay somewhere nicer and we should go for an actual vacation instead of work or rugby!
Things on our list that we want to do next time include: helicopter ride to Grand Canyon, Cirque Du Soleil shows, hiking in one of the various locations nearby, more poolside lounging and drinking. We looked at doing all of those things this trip but either time or money was a limiting factor.
I do recommend checking out Axehole on Freemont Street if you're out in Vegas. They do serve some drinks there and its a great way to take a break from whatever craziness you get in to!
Cheers!