How do you pack? Are you a hardcore organizer with lists, a frantic last-minute packer, or somewhere in-between? I am definitely an organizer. I like to be prepared, sometimes over prepared, but its a process I enjoy.
There are several steps I take when figuring out how to pack for a trip.
Obsessively check the weather for the area I'm traveling to. Weather plays a huge role in whether I might need layers, rain or snow gear, or lightweight clothes for when it's balls hot. I'm more lenient when we're driving because there's more space in the car, but when flying I want to be as minimal and practical as possible.
Figure out the overall agenda for the trip. If I know what activities I'm going to be doing each day, I have a better idea of what outfits I will want to wear. I typically always bring at least one pair of workout clothes in case I can squeeze in some gym time but if I know there's a lot going on or some really late nights, there's no point in bringing more than 1.
Plan outfits for each day.  I will go through and plan an overall outfit for each day. My general thoughts are what can I re-wear (i.e. pants, shoes, layering pieces) and what will go with everything. I like to have a general color theme so no matter what I grab out of my suitcase, it's going to match. My general rule of thumb is to plan at least one outfit for each day (or activity if needed) then add one more because I like options. If I pack the specific amount I am guaranteed to hate one of the choices when I arrive and then I have no back-up (it's definitely a mental thing). For our Buffalo trip, I know I'm going to be outside all day on Sunday tailgating and watching the football game so I need to bring extra warm layers I can wear under my Bills gear.
Pack everything once then re-pack. When flying I always do a carry-on instead of checking bags because I hate waiting for baggage claim or worrying about not having my stuff when I get there or get home. I usually pack 1 day in advance to see what arrangement works best and which suitcase or bag I want to use. I've found that rolling clothes helps cut down on space (which means you can fit more!) and shoving socks or other small items in your shoes utilizes every available inch. I also tend to re-pack late the night before because I might rethink an outfit and toss another shirt in or realize I don't need that many leggings and take some stuff out.
Figure out the purse situation. Luckily with flying you typically get one carry-on and one personal item. I pack all my toiletries and electronics in my purse so it's easier to grab for the security check-in and I'm not digging through my suitcase. I also make sure I have an empty s'well bottle to fill with water once we're through security and some reading material. K. usually pre-downloads some TV shows or movies to watch on the plane while I read. I typically go with iBooks for travel so I'm not lugging a bunch of books around the airport. My other trick is to wear my bulkiest stuff ON the plane versus trying to pack it – that applies to my coat, shoes and layering pieces. Our Buffalo trip is calling for cold and rain so I'll probably just wear my wellies & raincoat on the plane and toss an extra scarf/wrap in my purse. I will say I definitely go the large purse route for my personal item and pack a smaller one for the actual trip (if I use a clutch I can utilize it in the larger purse to corral important items so I'm not digging through looking for headphones or my ID).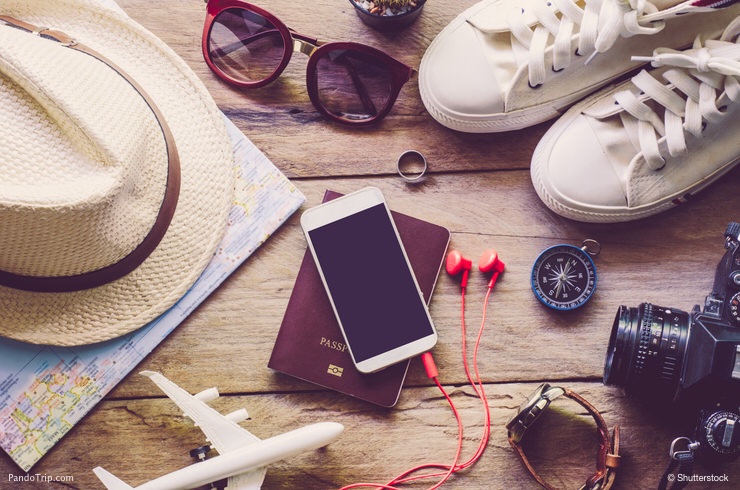 K. thinks I'm crazy when I pack. I usually end up packing for him or he tosses random clothes in a gym bag the night before or the morning of. Sometimes it works for him, sometimes it doesn't. But we both have our methods and what works for one doesn't always work for the other. So what's your style?!