It's crazy that yet another week has gone by. We got back from North Carolina LATE Sunday night and I feel like the past days have been a blur. I sat here last night and tried to figure out what I actually did this week because I feel like I wasn't accomplishing things… but I was! (more on some of that next week).
One of those small bonuses of not working right now has been all the extra time I've had to hang out with my mom. This past week we met for lunch downtown and I helped her complete the Itty Bitty City scavenger hunt – a really cool/fun thing the local newspaper puts on every summer. Someone goes around downtown and takes extreme closeups of random things and you just have to go around and figure what/where the photo was taken. It's such a great way to explore the downtown area and we always find new places to check out. I also had her come over Thursday afternoon to help me get paint primer all over our living room walls (I promised her wine if she helped). The transformation to just the white primer is amazing compared to the greenish brown crap that's been on the walls.

Here are the things I'm loving on this week:
Native deodorant – I originally started out with Schmidt's when I switched to a natural deodorant and I do still love the lavender blend. However, Target was routinely sold out of the one and I wasn't a fan of the other blend I got so the last time I needed a new one I opted for Native's lavender & rose blend. It smells amazing and goes on so smooth! I think the coconut oil in it helps with that. Bonus – Wal-Mart has a travel size version of the Native brand so I stocked up when I started all my summer travels.
Bottlekeeper – K bought me this nifty thing for Christmas because he figured it would come in handy at his rugby games. And wouldn't you know it, he was definitely right! The bottom screws off to allow the bottle to slide in and the stainless helps keep it cold as you're drinking. The cap also has a built in bottle opener so you never have to worry about forgetting one! I've utilized it at all of K's rugby games since December, as well as any time I'm doing work around the house and drinking a cider. Best gift ever!
Wegman's Brand Tortellini – I am a huge fan of Italian style foods and these tortellinis make any meal 10x better. I made a big batch of Bolognese sauce earlier this week but we had no extra pasta for leftovers and with me going out of town again this weekend, there was no point in getting spaghetti squash (K won't eat it). So tortellini for the win! They only take 3 minutes in boiling water and they are good to go. It makes dinner that much easier and also tastes amazing with just a little olive oil or pesto. I could eat the entire bag solo…
TriggerPoint GRID Foam Roller – I absolutely love these foam rollers. I have a regular dense foam one but it never feels as good as this one. All the different zones help alleviate any muscle/fascial restrictions I'm dealing with especially in my legs and hips. I've been focusing a lot on my recovery from workouts this week so I've been incorporating more foam rolling both before and after I run or go to the gym. It's also fantastic for a little self-adjustment in the midback/thoracic region!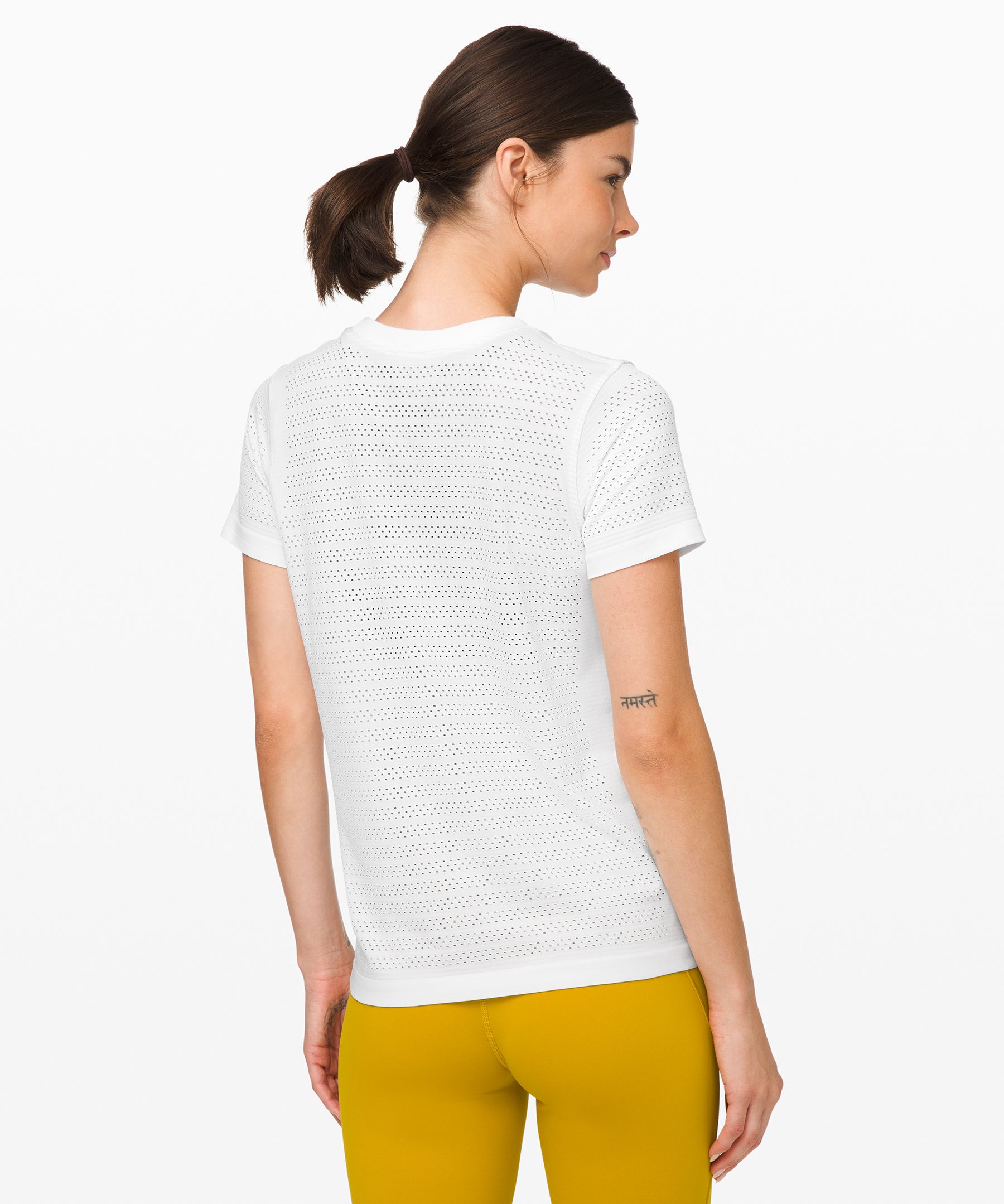 Lululemon Breeze by Short-Sleeve Squad – I just got this shirt (after a lot of deliberating!) and wow. I was originally interested in the long-sleeve but when they released this one, I was sold. I wore it for my run this morning, which was uncomfortably hot (BUT NOT AS AWFUL AS NORTH CAROLINA.OMG) and it felt amazing. All the perforations allow for the best breeze to come through the shirt plus its loose on which helps with the air flow. I typically have to be in a tank top if I'm doing my workout outside in the summer – sleeves are my enemy – but this shirt is definitely a game changer. I will probably go back and get the long-sleeve version as the Fall weather nears (please come soon). SO. GOOD.
I'm off to spend the weekend with my favorite munchkins and another fantastic dog! Cheers 🙂